Turkish Cargo is committed to accomplishment of the transportation service in the fastest way within the latest option and the shortest connection time for e-commerce and express shipments thanks to its TK COURIER service. We carry your cargo elaborately by our personnel, specialized and trained in all processes covering a wide range where the security screening, palleting, ramp handling and loading. We place your shipments, which are ready for the cargo compartment, in the appropriate position within the aircraft, and we transport such shipments to their destinations in a manner to ensure that they would be loaded and unloaded in the fastest manner.

Qualified Personnel Trained in IATA

Dedicated Acceptance Gate

Easy and Quick Reservation

Dedicated Acceptance Period
Coordinated Operations With Courier and Express Agents
TK COURIER is the transportation service "from an airport to another", which is designed to satisfy any and all kinds of transportation requirements that might be related to e-commerce, last minute, personal or courier services or simplified customs procedures applied goods or express services. For the purpose of avoiding compromise on the quality standards, Turkish Cargo collaborates only with the designated agents.  
TK COURIER is one of the most privileged cargo types implementing LIFO (last in first out) in respect of the capacity planning sorting.  The palletization procedures performed by the trained personnel will prepare the cargo for the flight rapidly and securely.  Any cargo, which is ready for the flight, is brought into a position for being ready to be loaded on board the aircraft as promptly as practicable in a manner that would not hinder the ramp safety. 
Any TK COURIER cargo, received as a privileged package, is prepared for the delivery for the purpose of performance of the customs procedures following performance of the privileged and rapid delivery order preparation procedures. 
TK COURIER FLEX and TK COURIER EXPRESS
For the purpose of sorting out the cost-sensitive and time-sensitive e-commerce and express consignments, TK COURIER offers the TK COURIER Flex and the TK COURIER Express options. If the arrival time of the consignment is the primary factor, then you may benefit from the advantages of the time-sensitive transportation by choosing the TK COURIER Express booking option.  If the transportation cost of the consignment is of primary nature, then you may benefit from the advantages of the cost-sensitive transportation by choosing the TK COURIER Flex booking option.
Your shipment status would be informed to you as a pre-alert message.
TK COURIER EXPRESS and TK COURIER FLEX Features

TK COURIER Prohibited and Restricted Consignments

FSU Message Descriptions

ICS2 Terms and Conditions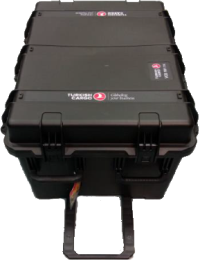 TK VAL Cargo Box VCB 1000
7 Locking Mechanism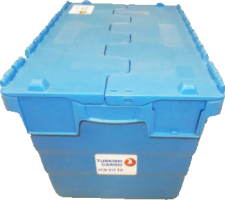 TK VAL Cargo Box VCB 910
Valuable Cargo Box